How to Avoid a Bulky Bob: 4 Techniques To Try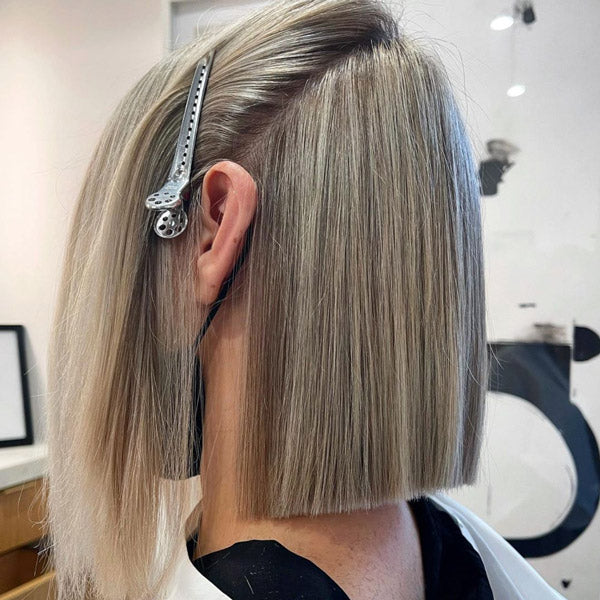 4 Cutting Techniques For Thick-Haired Clients Requesting A Bob
Trying to cut a bob on a client with thick hair can be stressful. If you're triggered by the idea of texturizing vs. thinning, damaged ends and bell-shaped bobs, don't spiral. We tapped tips from some serious cutting experts to help create a calm cutting game plan and achieve the bob of you (and your clients) dreams. 
Keep scrolling for tips on cutting techniques for creating a flattering shape, how to navigate damaged ends and the tools you need to achieve it all! 
First: Keep hair dry to identify high-density areas
Don't let dense hair become a wet blanket (see what we did there?). Get an idea of where thickness lives before wetting to avoid removing weight from thinner areas and save you from extra work later. Los Angeles-based stylist Erik Jon (@erikjonhair) shared some key areas to note: 
The center back:

 "Clients with high-density hair will experience thickness in this area," he explains. Erik prefers to use a gliding, freehand technique in this section to make sure enough weight is removed.
The hairline:

 The hairline is typically 

the

 least 

dense

 area for most clients. Erik suggests avoiding thinning this area completely and instead focus on blending techniques for a cohesive cut.
The perimeter:

 

Damaged ends? Erik advises keeping weight removal to a minimum. Instead, focus on creating a shape that allows the hair to grow out in its healthiest state. 
Pro Tip: For curly and wavy clients, Erik only debulks heavier, denser curls. Why? If a curl is too heavy, the natural pattern will be weighed down and the true shape won't come through.
Tip #1: Know the difference between thinning vs texturizing
"Thinning is typically needed for a client that has thick or a lot of hair," explains Connecticut-based stylist Summer Evans (@summerevansstudio). "Texturizing adds movement to a haircut and if done properly, is a technique that can be used on any client—even if their hair is on the thinner side," she explains. 
Instagram via @summerevansstudio
Summer's go-to tool for removing weight? The SYMMETRY 30/2 Reversible Blender from ARC™ Scissors. "When I am debulking my bobs I need a texturizer that gives me control over how much hair I remove. The SYMMETRY 30/2 Reversible Blender only removes 15 to 20 percent of the hair. So they are perfect for that because they take out just the right amount of hair every time," she explains. 

Tip #2: Use Vertical Graduation To Remove Weight & Create A Flattering Shape
To lean out bulky sides, 2021 #ONESHOT Bob/Lob Winner Chris Jones (@chrisjones_hair) creates a horizontal parting at the hairline and works roughly an inch or two above the ear. Overdirecting the sections out and slightly angled down, he uses the SYMMETRY 30/2 with the straight blade on the bottom, closing the shears when exiting to slide cut and create subtle graduation. 
"This really leans out the shape so it is flattering to her face," he explains. "Since I have a section that will fall over this subtle graduation, the ends won't look wispy or frayed and it just removes the bulk right at her jawline." 
Client have a round face shape? "Leave about two or three inches in length below the chin," explains Chris. "That will help elongate that rounded shape and create an oval-shaped illusion." Instagram via @chrisjones_hair
Tip #3: Avoid over-thinning with a slice and weave technique
Scared of creating holes when removing weight? Don't be. Instead, try this technique from Cali-based stylist John Nguyen (@john.n1115). 
Take a vertical slice on dry hair.

Then, weave the thumb blade all the way through the slice. 

Without fully closing the blades, softly back cut the weave using a sliding motion. Since this technique doesn't remove a lot of hair at once, it's easier to control. 

John's technique uses the entire blade, so sharp scissors are a must. That's why he works with the HARMONY II scissors from ARC™ Scissors. Made from 100% Japan-made steel, they are sharp enough to back cut with snagging or pulling on the hair.