Long Layers: 10 Pro Tips + Common Cutting Mistakes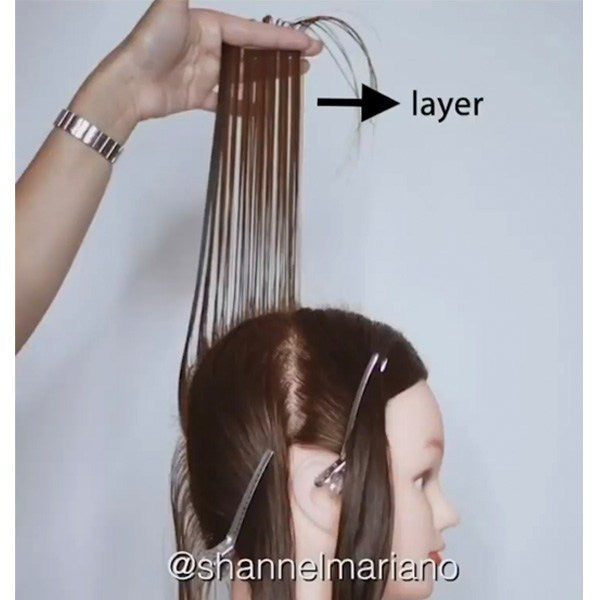 "I want layers, but keep the length"—we've all heard our clients say this a million times. That's why the long layered haircut will keep your books filled and your clients coming back. 
 
From the consultation to finishing with dry-cutting techniques, we're sharing all the dos and don'ts of cutting layers from experts below!
1. Consultation Questions To Ask Before Cutting Layers
These are Farhana Premji's (@xo.farhana.balayage) go-to questions to set yourself up for success before cutting a layered look on a client. 
Do you want pieces to fall forward when you tie your hair back?
How do you want to style your face-framing layers?
Do you flip your hair back and forth, or are you committed to one side?
Are there features you want to accentuate: cheekbones, jaw or collarbones? This determines the starting point for face-framing layers.
2. Mistakes That Can Ruin Long Layers + How To Prevent Them
These are the top mistakes stylists make cutting layers and some pro tips to avoid choppy or thin layers, holes and harsh lines. 
Hole In The Perimeter:

 

This is an easy mistake to make when cutting long layers, says

 

Liz Haven (@lizhaven). To prevent this, leave ½-inch of the perimeter out of each section for insurance and plan ahead.
Choppy Layers:

 

To prevent choppy lines,

 

Matt Swinney (@matt.swinney)

 

always finishes with dry-cutting to soften up layers and blend with perimeter. Here's how: 
First, glide the fingers through the hair until you reach the end.
Then, twist the hair and set the scissors inside the twist.
Bring the scissors through in a slight open and close motion at an angle to soften and blend the hair, but DO NOT close the shears all the way or you'll remove too much.
Matt says to make sure to use super sharp scissors like

 

ARC™ Scissors Designer Series PHANTOM II 6"

 

that glide easily through the hair without snagging. 
Matt's go-to Scissor: 
Skinny Perimeter: Drop some hair and layer what you have left, suggests Shannel Mariano (@shannelmariano). Cut a line connecting the desired length of the shortest layer to the length at the bottom. For a thicker perimeter, drop more hair. If you don't want it to be as thick, drop less. The result? Layers on top that connect to a one-length haircut on the bottom.
Harsh Lines + Thin Layers: Júnior Estevam (@juniorestevamhair) cuts 99 percent of layers on dry hair to create softer styles and visually see how the hair will look every day. Also, make sure to comb the hair as straight as possible before cutting each layer.
Júnior works with ARC™ Scissors Master Series PARAGON II to achieve fresh layers without harsh lines.
Memorizing vs. Learning The Fundamentals: "My mistake was memorizing and copying exactly how another person cuts," says Shannel. "Your client's head shape, hair type [and] face shape is different from their model. What your clients want isn't exactly what their model may have. Everything about you, not just your height or arm length is different from that hairstylist on the video."
3. Pro Tips For Cutting The Face Frame
Face frames are like a fringe, says Matt. The face frame should accentuate, or frame, what attributes you and your client determine they want accentuated. Here are a few key tips: 
Cut Dry:

 

Liz prefers to work with dry-cutting to see where the hair naturally lives, and cut in that state for max control.
Avoid Holes:

 

Create the guide and blend to meet the length, suggests Farhana. This prevents cutting too far back into the haircut, leaving holes in the face frame. Instead, this will create movement and openness while maintaining strength in the shape.
Elevation:

 

How the hair is elevated when cutting the face-framing area will decide how full or how soft the cut will be, says Matt. For finer hair, it's crucial to keep the hair closer to zero degrees. When working with denser hair, the hair should be more elevated to create softness.
Scissors:

 

Matt uses ARC™ Designer Series PHANTOM II because they're super sharp (needed for a clean cut), and lightweight which allows more control and takes away that feeling like the scissors are forcing him to cut. 
Body Position:

 

When cutting the face frame, Farhana always stands in front of the client to ensure symmetry and balance.
Transitions from wet to dry cutting 
Blade ergonomics do not pull or snag the hair
Ball bearing pivot designed for even tension and control 
4. How To Connect Fringe Into The Face Frame
Curtain bangs are one of 2021's biggest hair trends, so how do you blend face-framing layers into the fringe? "Sometimes I leave the frame and curtain disconnected,"­ says Liz. "If I decide to connect the two, I like to comb the hair (dry) into natural fall and connect A to B using shallow and deep point-cutting methods."
5. How To Cut Layers On Curly Hair
Liz always uses dry-cutting techniques for long layers on curly hair, cutting in its natural curly state. "I may even fluff or brush it a bit to really expand the natural curl pattern," says Liz. Her go-to designs are round perimeters and round layers for curly hair.
6. How To Cut Triangular Layers
Shannel uses triangular layers for clients who want movement and a narrower face shape, using elevation and overdirection. Here's how!
To layer it shorter on top and longer on the bottom, lift the hair and cut. The hair on the top doesn't travel as much, so it will be shorter. The hair on the bottom has to travel further, so it will be longer.
To cut layers shorter in the back, pull the hair backward while lifting it up. Because the hair in the back doesn't have to travel far, it will be shorter. The front will have to travel further, so it will be longer.  
By simultaneously lifting the hair up and backward, the result will be hair that is shorter on the top and longer on the bottom (layers), and hair that is shorter in the back and longer in the front (triangular).
7. Keep Density In Layers
When cutting excess weight off the ends, it's super important you don't lose any density. "Long hair grows out best when it kind of trails off and you keep a little bit more density in the back," says Matt. "The more diagonal the shear hits the hair, the stronger the texture becomes. The more parallel the shear is to the hair, the softer the texture is."
8. Blending Layers: How To Do It Correctly
"This technique should be less about adding more layers and more about connecting Point A to Point B," says Farhana. "When held at different elevations, you'll typically see a corner that needs to be cut to eliminate the bulky weight caused by disconnected layers."
Important reminder: Be conservative with how much you're taking off when blending! Blending layers means removing MORE hair, and this can cause the collapse of the shape. Farhana always blends on dry hair to see where the hair wants to fall and where the layers will live.
9. Use Layers To Prevent Choppy Balayage Results
Farhana pairs every color service with a fresh haircut, like layers, to accentuate the color and complete the look. For balayage, remember this: the lightest point of the top of the layer must connect with the transition zone of the bottom layers for a balayage gradient blend.
To create the shape of a look, Farhana reaches for her PHANTOM II 6". "My PHANTOM II are super lightweight and actually CUT through the hair without pushing it," Farhana explains. 
10. Body Positioning Tips For Cutting Layers
"I don't think there is a one-size-fits-all rule for body positioning while layering," says Shannel. There are many ways to get the same outcome. It's ultimately up to you to find what's most comfortable.
"I used to memorize things like 'always stand opposite of the side that you're cutting', or 'always cut short to long.' Although it works in some cases, it doesn't in all—and that could hurt your body," adds Shannel. "I've met many hairstylists who've had carpal tunnel surgery, shoulder surgeries, numb pinkies, and some who have had to lay on a bag of ice for their back/shoulder in between clients. Don't do things just because someone said so. You have one body. Listen to it. Take care of it."