How To Cut A Soft Blunt Bob | Haircut Tutorial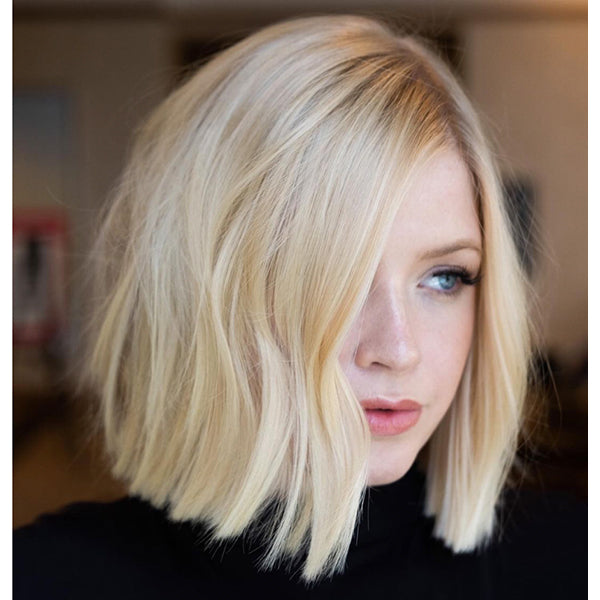 Want to master that cool-girl soft blunt bob clients are asking for? Our bob expert Chris Jones (@chrisjones_hair) shares his pro tips when cutting a straight line into a round silhouette for a soft, structured bob. Keep reading for the step-by-step details from Chris and check out the full demo to watch how Chris alternates from his ARC Scissors PARAGON II and SYMMETRY 10/10 REVERSIBLE TEXTURIZERS to carve out blunt bobs with lots of movement. 
 Scissors Used:
ARC™ PARAGON II
ARC™ NEW! SYMMETRY 10/10 REVERSIBLE TEXTURIZER
How To Cut A Soft Blunt Bob
1. To begin, Chris recommends cutting the neckline wet for controlled precision line work.
2. Comb the hair in its natural fall using zero elevation, zero over direction and minimal tension.
3. Cut the neckline in a subtle C shape, this preserves the corners and allows the bob to follow the neckline without losing the corner behind the ear.
4. Pro Tip: Only cut the back to just underneath the crown wet. The crown tends to jump or have cowlicks, so cutting the crown and sides dry can allow you to see the natural position of the hair before cutting.
5. Chris uses his SYMMETRY 10/10 REVERSIBLE TEXTURIZERS to cut the crown, perimeter and sides. The texturizer creates super soft lines with incredible precision—"It's like using a blunt scissor," Chris explains. "But instead of cutting the hair the re-texturizing, this scissor does it all-in-one."
6. Once the back and crown are dried and cut, move to the sides.
7. Pro Tip: Blow dry or and flat iron the sides before cutting the section. Cutting the sides dry allows you to see the exact length and line, eliminating any guess work towards how the hair will lay when the client styles her hair at home.
8. Using the SYMMETRY 10/10 REVERSIBLE TEXTURIZERS, chip away at the sides from the profile position. Chris explains using a texturizer is like using a pencil before using a pen—you can create a soft guide for all your lines before going in with your regular scissor. 
9. Once the baseline is in, use your PARAGON II Scissors to point cut the interior to add subtle layers and texture.

Watch The Full How-To Video