SHAG VS. MULLET: THE DIFFERENCES AND HOW TO CUSTOMIZE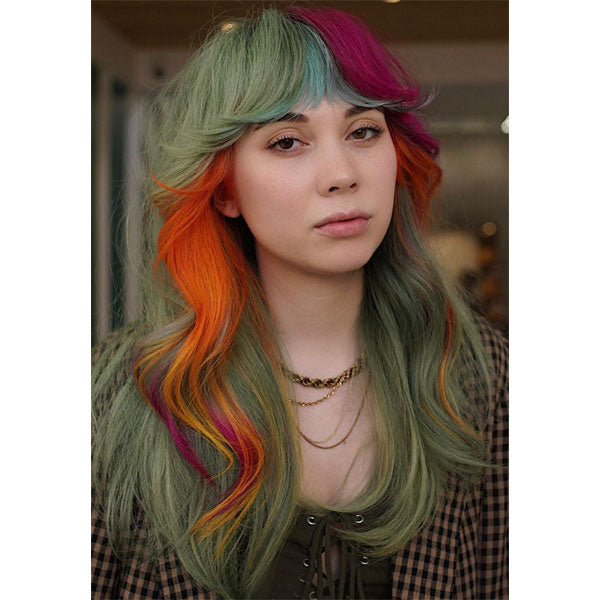 Shags and mullets have resurfaced as THE cool cuts, in every shape and form. We feel confident these looks aren't going anywhere, so we talked to some cutting experts on the main differences between the shag and mullet and how to achieve these looks for your clients. Now you can feel confident the next time a client sits in your chair and asks for this new trend!
1. What are the main technical differences between a shag and a mullet?
Disconnection
According to Rachel Williams (@rachelwstylist), a mullet is essentially two different haircuts. "The mullet is disconnected completely from the ear to the back, whereas the shag is connected to the back. One of the main differences between a shag and a mullet is the amount of hair that is left or removed on the top of the head and around the face," says Rachel.
Length Variations
"A mullet is always shorter in the front and longer in the back, some with drastic drop offs. A shag on the other hand is a heavily-layered haircut that is usually shorter and layered around the face but still connected to the rest of the cut by layers," explains Paige Brueck (@pinkdagger).
Instagram via @pinkdagger 
Pivot Point
"One of the main technical differences is where you start pivoting from shorter to longer. This translates to how far back you push your corner which generally is between the base of the ear and the back of the ear," explains Brian Hickman (@brianhickman1). The further back you go, the more extreme your disconnection becomes. "A mullet is disconnected from the length, and the layers in a shag blend into the length," says Ashley Fillip (@hairbyashleyfillip). 
Instagram via @brianhickman1 
Cutting Corners
Another key difference between a shag and a mullet is that a shag naturally forms square layers or corners. "To keep the cut a more conservative shag and save length, elevating the hair when removing the weight from the corners is key", says Sally Hershberger (@sallyhershberger). To create more of a mullet, texturizing the corners out gives it an edgier vibe. "I think what really makes my shags work for people is that they're so blended, because I take out that corner," remarks Sally. "That corner can make it look very conservative or cool depending on how it flows."
 Instagram via @mileycyrus
2. Who is the ideal candidate for this look?
"All hair textures can be cut into a shag or mullet. Shags and mullets can be for straight, wavy, or curly hair as well as long, short, dense, or fine hair, explains Paige. The best part about cutting a shag or a mullet is that they are completely customizable. "I've never met a human that didn't look good with a shag or a mullet. If you have extremely thin hair, it may not translate the best, but you could tweak some things to make it work," says Ashley.
When deciding if these cuts are right for his clients, Brian is looking for someone who will own it. When customizing the cut, he approaches it the same way he does any other cut. "Highlight the stand-out qualities and features and soften the ones you want to be less prominent," explains Brian. 
3. What are some of the biggest mistakes you can make when cutting a shag or mullet?
Consultation
One of the biggest mistakes you could make when performing these type of cuts is not having an in-depth consultation with your client. "I feel like everyone has their own idea of what a shag and mullet are. As this style has grown in popularity time after time, stylists have gotten more creative with them from soft shags to extreme mullets. "Pictures, pictures, pictures!" stresses Paige. Have your client show you visual examples of what look they are going for. 
"Women don't realize how layered a shag is and when they see all the layers being cut it can start to scare them because they might feel like you are cutting all their length off," adds Rachel. Always make sure to explain this during the consultation to prepare clients so they don't get surprised during the process. 
Planning
Brian also recommends having a mental blueprint before starting. These cuts are creative and technically challenging so having a plan can help you not get lost in your haircut. "Make sure you understand the process. Practice on mannequin heads if you aren't super comfortable and take your time!" Paige recommends getting your hands in the hair. "I like to move the hair around to help give me a better idea of where the hair will fall," says Paige. 
Texturizing
Over texturizing or removing too much weight when wet can take your cut from a shag to a mullet quickly. "To remove weight, add texture and blend I always pick up my ARC™ SYMMETRY 30/2 Reversible Blender. These shears are very versatile and don't take out too much hair which is super important. A haircut can easily collapse if too much hair is taken out," explains Rachel.
4. Are there any specific challenges or lifestyle changes required when a client gets this cut?
"Because shags and mullets are so custom to each client it is important to discuss their level of maintenance as far as styling goes. Some shags can be air dried with a little product while some clients may prefer to curl or straighten their hair. Either way, there's usually a cut that will fit their needs. Never give a mullet or shag to someone who you know won't do what's necessary to style the look. That's just not good for anyone," says Paige.
It is also important to show your client how to style their new look. The face frame is usually the part of the cut that needs the most attention and can be the trickiest to style. Click play below to see Sasha Shelton's (@hairpapi) bang styling hack to show your client exactly how to get that curtain bang silhouette.
"If the haircut interconnects the way it should then it will function and grow out beautifully," explains Brian.