3 Cutting Techniques For Removing Weight From Thick Hair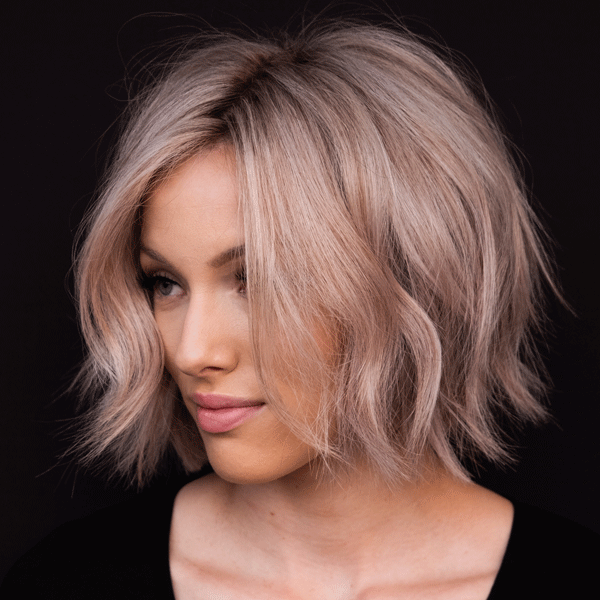 Cutting the perfect bob can be intimidating. Cutting the perfect bob on a client with thick hair (and a lot of it!) can be downright scary. But have no fear, ARC™ Architect, #ONESHOT Cut Video Winner and bob-cutting expert Chris Jones (@chrisjones_hair) broke down his signature cutting techniques for removing weight without compromising shape. 
Scroll down for Chris's go-to tips for avoiding a bell-shaped bob, removing weight without over texturizing and when to use graduation. Click here to purchase Chris's class on BTC University and have unlimited access to the course! 
What We Learned:
You can learn Chris's full technique in his 90-minute course, but we're teasing these tips you need to know now!
Tip #1: Choose A Straight Shear That Allows For Complete Control 
An undercut is key for thick-haired clients requesting shorter styles. "All that density under the occipital bone causes a problem with the shape and really isn't needed," Chris explains. So, he begins by cutting a baseline at the nape at zero elevation with his PARAGON II from ARC™ Scissors. Why? The PARAGON II is made with slimmer blades, giving Chris the control he needs to cut a pristine line and avoid any overdirection and unwanted elevation. 
"This line really sets up the entire shape of the haircut. So I need to be able to comb the hair down into place, cut the line and let go of the section without the hair bouncing back or moving, and the PARAGON II allows me to do that," he explains. 
Click Here To Purchase Your Pair Of PARAGON II
Tip #2: Know The Difference Between Texturizing & Thinning 
Chris avoids a heavy, rounded bob by altering his scissor over comb technique to thin out denser areas instead of building weight with graduation. "I'm still working with scissor over comb but I am going pretty deep into the section when cutting," he explains. "If I were to focus cutting on the ends, that actually creates a bevel and makes the shape even rounder." 
Chris uses the SYMMETRY 30/2 Reversible Blender from ARC™ Scissors for this technique because the design allows him to cut through a section without causing damage. "The way the teeth are designed, I can enter deep into the section with the straight blade on top. Then, I can close the shear on my way out without snagging or pulling," he explains. 
Pro Tip: Enter the hair with the scissors at a diagonal to avoid visible cut lines when removing weight.
Click Here To Purchase Your Pair Of SYMMETRY 30/2 From ARC™ Scissors!
Tip #3: Use Vertical Graduation To Remove Weight & Create A Flattering Shape
To lean out the sides, Chris creates a horizontal parting at the hairline and works roughly an inch or two above the ear. Overdirecting the sections out and slightly angled down, he uses the SYMMETRY 30/2 with the straight blade on the bottom and closes the shears when exiting to slide cut and create subtle graduation. 
"This really leans out the shape so it is flattering to her face," he explains. "Since I have a section that will fall over this subtle graduation, the ends won't look wispy or frayed and it just removes the bulk right at her jawline." 
Slide For The Stunning Before & After
Have Questions? Chris Has Answers!
One of the benefits of watching a course on BTC University? Artists are able to answer your questions in REAL TIME! Here are some technical questions viewers had for Chris during his livestream:
Question: How does a client's face shape help determine what type of bob you recommend to a client?  
Answer: "So, if you have a client that comes in and they have a rounder face shape, the last thing you want to do is give them a shorter cut that accentuates that. My goal is to make everyone look like they have an oval face shape. So, for a client with a rounder face, I would probably leave about two or three inches in length below the chin or even cut a lob. That will help elongate that rounded shape and give the illusion that it is more oval." 
Q: If your client is already noticeably texturized, how would you remove bulk without overtexturizing?  
A: "That's sort of the beauty with dry cutting. Put your perimeter in and then see how the shape is. If the hair seems still really bulky underneath, then maybe go in and take out a little bit more hair. Chances are, someone used vertical overdirection to create texture and volume at the top but ignored the bulk underneath. Every haircut is a case-by-case basis, just use your judgement and when you feel that enough bulk has been removed, stop cutting."
Ready To Learn More? Click Here To Purchase Chris's Course On BTC University & Receive Unlimited Access!