Different Types Of Bangs For Any Haircut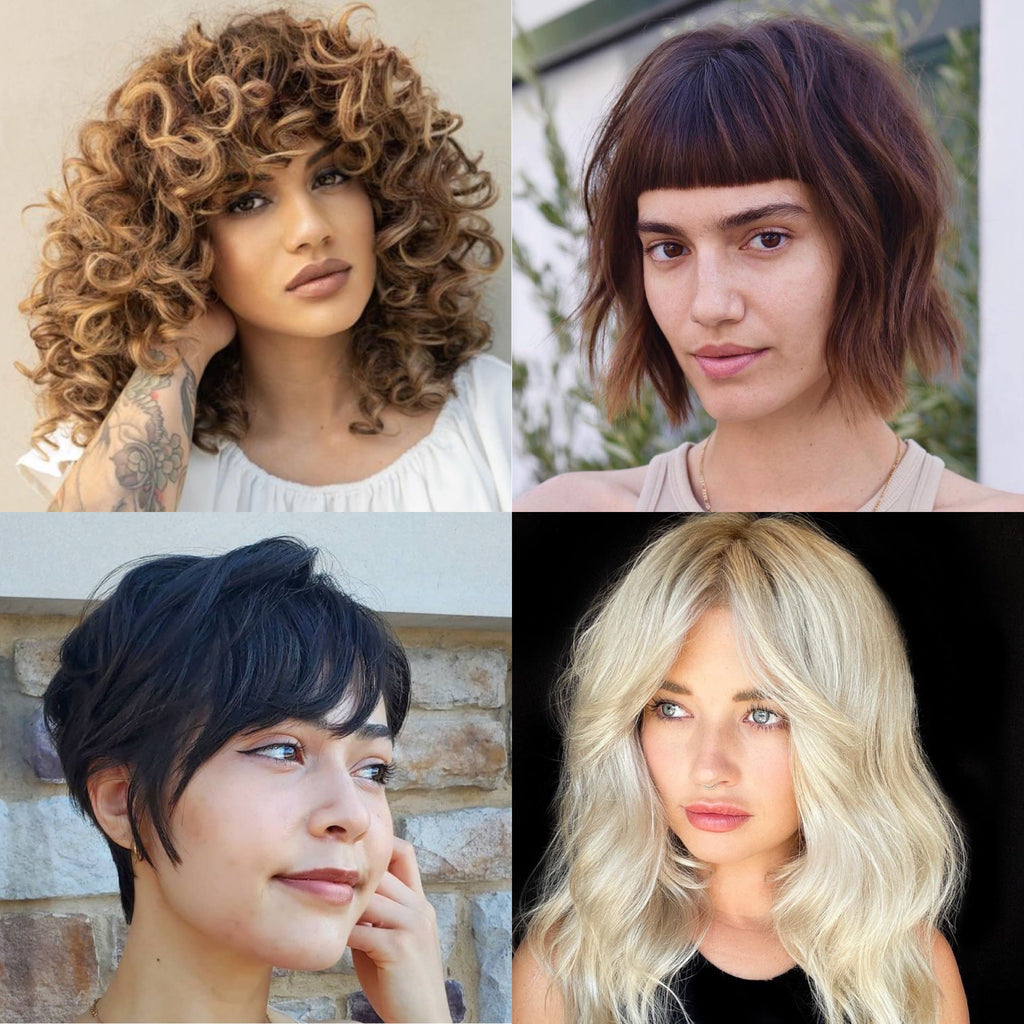 How To Add Bangs To Any Haircut
Does it seem like everyone is suddenly asking for a fringe?! Bangs are HOT right now, and an easier way to achieve a transformation without losing too much length. That's why we're rounding up types of fringe that can suit ANY client. 
We're taking you through five general fringe types with tons of example looks, plus the pro tips you need to recreate these styles!  
1. Curtain Bangs
Instagram via @chrisjones_hair
These are the undisputed MVPs of 2021. Curtain bangs fit naturally with shags, long layers and even bobs. For a client who wants fringe but you know might not really want fringe, these are a great way to dip a toe into the fringe pool. 
Pro Tips:
If your client is nervous (or you are!), start longer and work your way up.

Avoid taking the fringe section too far back on the head. This will make the fringe bulky and puffy. @rachelwstylist recommends following the curvature of the head and using a comb to determine where the head starts to round at the front, then taking the fringe section from there.

Start wet, detail dry. The hair will shrink when dry and will give a better idea of where the fringe will actually live. Rachel uses PHANTOM II by ARC™ Scissors because they excel at cutting the hair both wet and dry, so she doesn't need to switch scissors.
Instagram via @rachelwstylist
Why Rachel uses the Phantom II for cutting curtain bangs:
Unique blade design won't pull on hair, making smooth cuts for a soft finish

 Excels in wet, dry and precision cutting—perfect for any bang cutting preference

Razor-sharp blades create subtle texture, leaving bangs light and airy to frame the face 
ARC™ PHANTOM II
2. Blunt Bangs
Instagram via @yukistylist
This may be the year of the shag, but the French bob is a close second. The look is ultra chic, and it's an easy way to switch up a client's look. Another idea: Pair soft, blunt bangs with long layers!
Pro Tips:
Consider finishing and styling the entire cut BEFORE you start the fringe. @chrisjones_hair does this so he can see exactly how the fringe will integrate with the overall cut.

Approach the fringe on dry hair, working from the temple to the center. Comb the hair to natural fall, and leave the initial cut a half inch longer than the desired finished length, cutting with the ARC™ Scissors PARAGON II. These shears are the dry-cutting master scissor—optimized for precision work and slide, slice and point cutting on dry hair.
On that extra half inch, Chris texturizes for softness with his ARC™ Scissors SYMMETRY 30/2 Reversible Blender because they help remove weight without creating a hole in the fringe or removing strength from the perimeter.
Check out Chris's go-to texturizer:
ARC™ SYMMETRY 30/2 REVERSIBLE BLENDER
SYMMETRY 30/2 REVERSIBLE BLENDER
3. Curly Bangs
Instagram via @nubiarezo
Is there ANYTHING cooler than a curly, shaggy fringe? The answer is NO. Curly bangs add an effortless cool factor to curly cuts!
Pro Tips:
Curly bangs can create a heavy weight line. Be sure to balance the weight from the bang and face frame with the weight from the overall shape of the cut.

Remember to account for shrinkage! Don't use maximum tension while cutting a curly fringe, because the hair will spring up and live much shorter than where you cut it, says @megmdoeshairs, a curly cutting specialist.

For curls, Meg prefers PHANTOM II scissors because they are versatile enough to use on any hair type and can carry her through the cut—no shear switching required.
Instagram via @slickback_buttahtoast
4. Micro Bangs
These types of fringes are STATEMENT-MAKERS! Amp up the edge factor by pairing micro bangs with creative color, or cut them on long hair for a subtle but still edgy look.
Pro Tips:
Blow dry the fringe section perfectly smooth before you begin.
These bangs require precision, so cutting them with ARC™ Scissors PARAGON II, which are built for precise lines on dry cuts. The blades are ultra-sharp, so they don't push the hair while he's cutting, resulting in the most precise line possible.
Use zero elevation and cut at the hair's natural fall. Otherwise, the finished fringe won't lie on the head where you intended them live.
Why the Paragon II is perfect for cutting micro bangs:
Razor-sharp blades from pivot to tip, making detail work a breeze.
Optimized for precision line work which is essential to avoid cutting too much from fine hair.  
Excels in dry cutting, perfect for finishing touches on cuts that require strategic placement.  
Get 15% ARC Scissors—use code ARC15 at checkout! 
5. Pixie Fringe
Instagram via @myguiltycrown
The fringe on a pixie cut makes these crops ultra versatile, so they are VERY important.
Pro Tips: 
Any of the bangs we've discussed already can work with a pixie, depending on the vibe your client wants. Something very cool right now is a curtain bang on a pixie, said @myguiltycrown. Experiment and try new things!

Use slicing techniques to personalize the outline and point cutting in the fringe to add movement. Gilad uses the ARC™ Scissors HARMONY II because they are versatile enough for use on wet or dry hair, so he doesn't have to switch scissors, and they are great for texturizing.
Texturizers are crucial for fringe-cutting. Gilad uses his SYMMETRY 30/2 Reversible Blenders with the teeth on top to influence the hair to move downward. To simply diffuse the ends of the fringe for softness, point cut just the ends of the hair with the section slightly elevated. To collapse the shape even more, work deeper into the hair.