Are Your Scissors TRULY Made in Japan?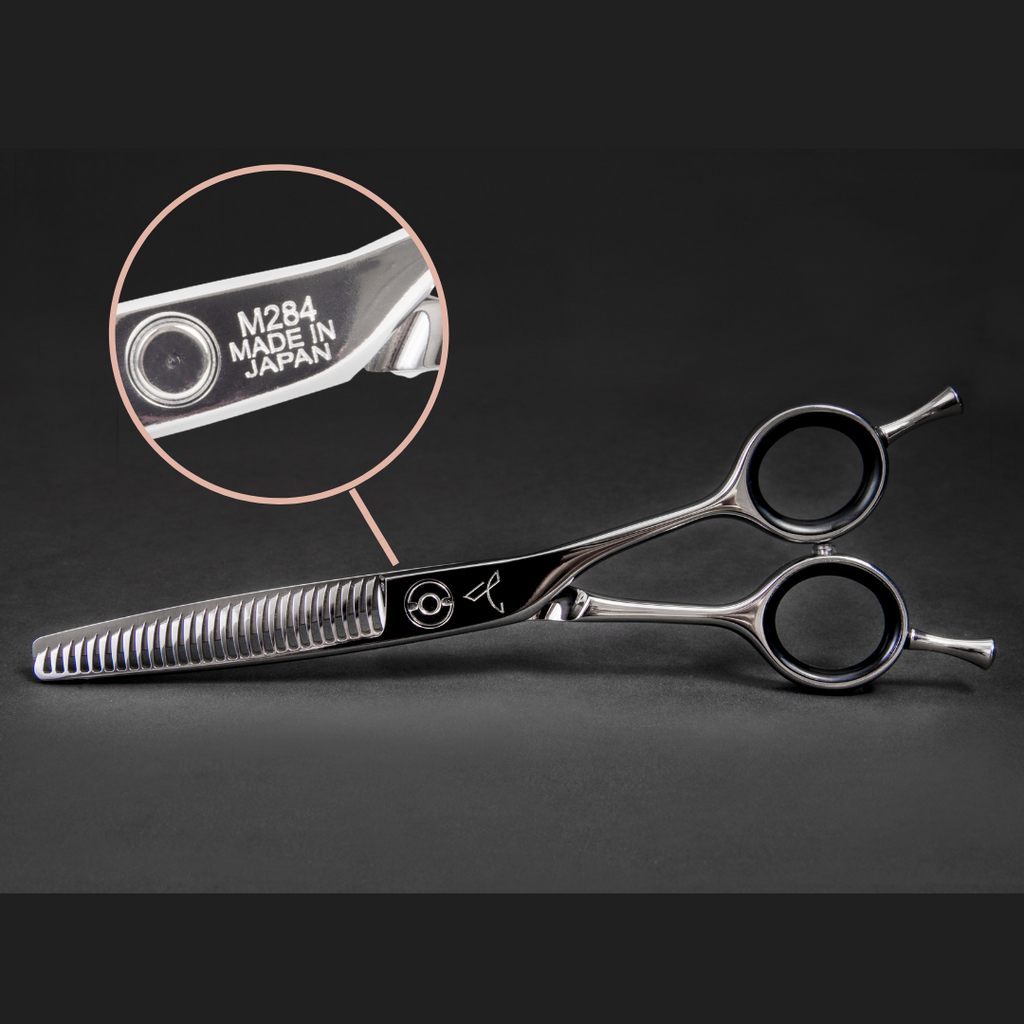 5 Questions To Ask When Buying Japanese Scissors
Before you invest in a new pair of scissors, it's important to understand the differences in scissor brands and their respective place of origin. Why does this matter? Because TRUE Japanese-made scissors are considered the best in the world and are NOT the same as those that only claim Japanese steel. 
Don't be fooled. Here are 5 questions to ask to make sure you get what you are paying for. 
1. How can I identify the country of origin?
Japanese-made haircutting scissors are considered the best in the world. They are handmade by master craftsmen in Japan who have been perfecting their work through generations. Unfortunately, the professional scissor manufacturing industry in the United States is unregulated. Meaning, while many brands claim to be made in Japan, very few actually are.
What To Look For:
"MADE IN JAPAN" will be stamped onto your scissor's blade. If the scissor is Made in Japan, it will be identified on the actual scissor.
If the packaging says "MADE IN JAPAN" but the scissor does not, the scissor was NOT Made in Japan. 
100% of all ARC™ Scissors are MADE IN JAPAN and show that designation.
 Scissors featured: ARC™ Texturizer: Symmetry 28/4 (M284) and ARC™ Protégé Series: Harmony II (PH600)
2. If the scissors say "Made with Japanese steel," doesn't that mean they are MADE IN JAPAN?
No. Absolutely not.
Many brands sell low-quality scissors made in Korea and China. They use low-grade Japanese steel and market them as "Japanese-made." Their extreme markups insinuate high quality scissors, yet they are probably only paying $25-$50 per pair and charging you over $1,000!  

True Japanese-made scissors are made by Japanese craftsmen in Japan who have been trained through generations to create the most masterful of scissors. 

ARC™ Scissors manufacturing is authenticated by the Tokyo Government for quality standards.
 Read more about ARC's passion to providing authentic Japanese-made scissors to cutters around the world.
3. How is the scissor constructed and what hardware is used?  
The construction of scissors and the hardware used directly correlates with the longevity and durability of your scissors. Cheap metals or easily accessible hardware will not only show premature wear, but could rust and break over time.

Japanese-made scissors will offer these features: 
Hand-forged with two-piece construction
This means every scissor handle is forged together into the blade steel. You may even see welding marks on your scissors! These are intentional, the marks indicate our construction process used to create custom, consistent designs that allow for flexibility and durability under hard circumstances. ARC™ Scissors forging process assures each pair of our scissors will provide long lasting performance through years of daily cutting and wear & tear. In fact, every pair of ARC™ Scissors is guaranteed for life. 
Understanding your scissor's hardware will ensure you're receiving the quality you're paying for. 

Here is our ARC™ Scissors hardware breakdown:
Ball-bearing pivot—this creates the smooth cutting experience. The mechanics inside our scissors are made to hold tension and weight evenly for guaranteed consistency when cutting.  
Flush hardware system—on the top of every scissor, you will notice the hardware is flush to the blade. This means there will not be any nubs, tails or screws that could get in the way when doing a one-length or blunt cut. 
Internal tension apparatus—assures tension remains consistent through a clicking system. This technology is what ensures that our scissors never tug  or snag the hair.  
Every ARC™ Scissor is MADE IN JAPAN.
Our best-selling scissor made of 100% Japanese steel made in Japan from our master
craftsmen

:
4. Is there a lifetime warranty offered?
A good pair of scissors should get you through cosmetology school, but a great pair of scissors should get you through the life of your career.
Every pair of ARC™ Scissors offers a Lifetime Guarantee. 
 ARC™ Scissor Satisfaction Guarantee & Lifetime Warranty
5. Are maintenance and sharpening services offered? 
Here are our ARC™ resources for maintaining your scissors.
Make sure you do your homework when a brand tells you they are MADE IN JAPAN. And know that you can trust that every pair of ARC™ Scissors you order today is handmade in Japan by expert craftsmen with only the finest Japanese steel. 
 Every pair of ARC™ Scissors is MADE IN JAPAN. 
Every pair of ARC™ Scissors is MADE IN JAPAN in fact, our Master Series is handcrafted with Super Gold steel.  This specific type of steel is the highest quality steel to come from Japan. The blend of alloys, elements and steels (along with the heating and cooling process) allows for:
Blade longevity. This steel lasts a lifetime, it is designed to keep the sharpest edge and withstand maintenance sharpening and daily cutting without dulling.
Durability. Long-lasting blades are made from Super Gold Steel because it is the only material sturdy enough to cut through any texture using any technique.
Make sure to do your research when choosing a Japanese scissor. Make sure the premium price you are paying for your scissors matches the material and craftsmanship you get in return.
@arcscissors