3 Extension Cutting Tips For A Seamless Blend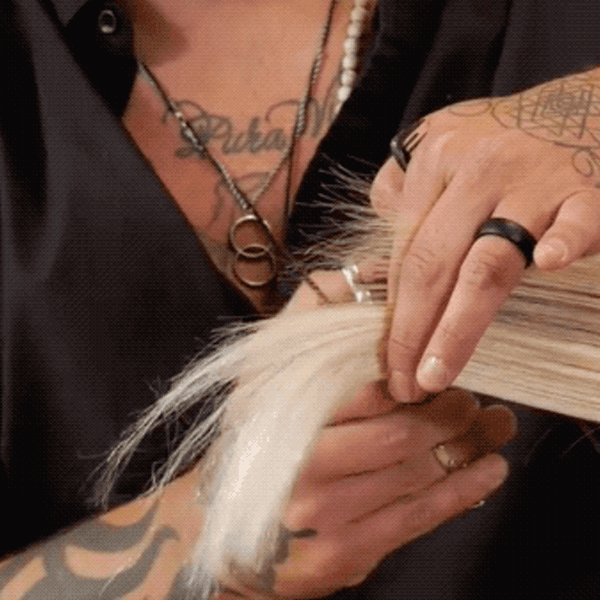 Extensions: 3 Cutting Tips For An Undetectable Finish
The application is just one part of the extension transformation process. Although your client is itching to get out and show off her longer locks, you first need to give her a quick trim to ensure the transition from where her natural hair ends and the extensions begin is undetectable. So keep scrolling to grab three extension cutting tips from ARC™ Scissors Hair Architect and L'ANZA Healing Haircare Global Creative Director Matt Swinney (@matt.swinney) that'll ensure your blends are seamless!
1. Keep Sections Vertical 
Know this: Cutting the hair vertically keeps it soft while cutting the hair horizontally keeps it strong. You don't want to just remove the remainder of the extensions and take away the length that they give, which is why Matt says to hold each section out vertically before making any cuts to ensure her natural strands seamlessly blend with the extensions.
"If we cut horizontally, we're going to leave the most amount of weight," he says. "If we start taking vertical sections, we're going to create a softer effect."
Pro Tip: Extensions are more sensitive than natural hair so Matt says to cut down the hair shaft to prevent any ruffling.  
2. Slide Cutting, But Modified
Matt's go-to technique for blending extensions with natural hair is a modified version of slide cutting, meaning he cuts by slightly opening and closing his shears rather than just sliding them through. Not only does it remove bulk and give the extensions movement but it also prevents any fraying.
"By opening and closing the shear, we help seal down that cuticle a little bit more so that if she chooses to not do anything to her extensions that day, they're still going to look good when she's just a wash and wear kind of girl."
3. Opt For A Straight Scissor
Instead of using a thinning or texturizing shear, Matt says he prefers to slide cut, point cut or detail with a straight scissor like the 6″ Paragon II from ARC™ Scissors because it has a thinner blade (which makes detailing much easier) AND it gives him more control over the amount of hair he's taking out and where he's taking it from. 
Before:
After:
Scissors Used
Click here to learn more cutting techniques from Matt Swinney on BTC University!