How To Cut a Shaggy Mullet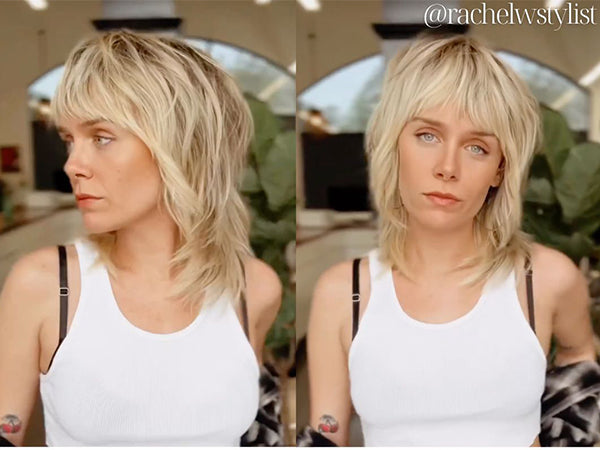 Take your client's shag to the next level by adding subtle disconnection to give their cut a mullet vibe. How? With these quick steps from ARC™ Scissors Artistic Team Member, salon owner and two-time #ONESHOT Winner Rachel Williams (@rachelwstylist). Keep reading to learn how to create bold, mullet-y texture for your rockstar clients.
Step 1: To create the fringe, start with a deep triangle section pointing towards the back of the head.
Step 2: Dividing the triangle in half, over direct each half to the opposite side and point cut the fringe to length using ARC™ Scissors PHANTOM II 6". The over direction and point cutting will create a natural angle to softly frame the eyes. Keep reading to learn why the PHANTOM II is Rachel's go-to for this look!
Step 3: Taking vertical sections from the crown to the ear, over direct the section forward and point cut to length using the fringe as your guide. This builds the soft texture needed in the front for the mullet-inspired silhouette.
Step 4: Overdirect the hair from the parietal ridge forward to create movement and point cut the section to length. This will build a heavier layered crown.
Step 5: Blend the crown layers down the back by slide cutting each section. Using organic sections will maintain a slight disconnection, creating the mullet vibe.
Step 6: Dry the hair and use ARC™ Scissors 30/2 Reversible Blender to remove weight from the crown in heavy areas. 
Pro Tip: The ARC™ Scissors 30/2 Reversible Blender features 30 teeth for 20% hair removal for soft, blended texture leaving no lines of demarcation.
Step 7: Style with dry texture spray to enhance the shaggy, textured look.
"I love my PHANTOM II 6" from ARC™ Scissors because it is so versatile—it takes you through a haircut from wet to dry. They're my go-to because they stay sharp and I love their perfect weight!" -Rachel Williams, @rachelwstylist
Perfect for all-around haircutters who cut wet and dry
Excels in wet, dry, precision and slide cutting while providing all-day comfort
Features a lightweight body with razor-sharp, narrow tip that makes detail work effortless and precise