3 Tips To Take The Fear Out Of Cutting A Shag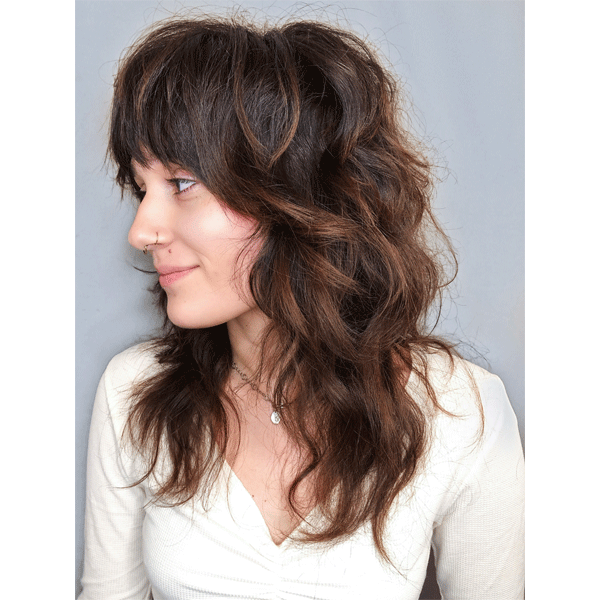 Learn How To Cut A Perfect Shag Every Time
Shags might have originated in the '70s, but this retro layered cut has proven itself timeless. That's why ARC™ Scissors Hair Architect Rachel Williams (@rachelwstylist) hopped on BTCU to share her signature cutting techniques for designing a shag for today's cool girl.
Scroll down to learn everything from how to create a symmetrical face-frame, to avoiding frizzy bangs and click here to purchase Rachel's course on BTC University and have unlimited access!
What We Learned:
You can learn Rachel's full technique in her 90-minute course, but we're teasing these tips you need to know now!
To Cut Her Shags, Rachel Uses The PHANTOM II From ARC™ Scissors. Why? They Are Perfect For Cutting Hair From Wet To Dry. Click Here To Add This Tool To Your Kit Today!
Tip #1: Avoid An Uneven Face-Frame With This Trick 
When cutting on your non-dominant side, things can get a little tricky, especially with a face-frame. To avoid cutting one side shorter than the other, Rachel suggests keeping your body position in front of the client.
Here's how she approaches her non-dominant side: First, she crosses her arms so her dominant hand is on top. Then, she holds the section with her bottom hand, maintaining tight tension. Resting her top wrist down for stability, Rachel can cut the section comfortably with a clear view of the entire face-frame. 
Tip #2: Create Disconnected Layers By Switching Up The Guide  
"The shag is all about the layers. They are disconnected, but cohesive," Rachel explains. To marry the layers together, Rachel switches between a stationary guide and a traveling guide. 
Everything below the occipital bone is cut with a stationary guide, creating concave layers while maintaining length. 
Working above the occipital bone, Rachel uses a traveling guide to create those signature, free-flowing shag layers throughout the crown. 
At the parietal ridge, Rachel switches back to a stationary guide, bringing everything to the center and elevating up to 90 degrees. "By bringing everything to the center, I am still creating layers, but I'm keeping the volume. If I went straight out from the head, the layers would be too feathered and create holes."
Pro Tip: As she moves towards the fringe, Rachel connects the top layers to her face-frame by overdirecting the sections 45 degrees forward. 
Tip #3: Texturize Half Of The Fringe To Avoid Frizz 
To soften up the fringe, Rachel grabs the 30/2 SYMMETRY Reversible Blender from ARC™ Scissor to remove any bulk. To avoid creating frizz, Rachel slides the texturizers beginning in the middle of the section through to the ends. "Only texturizing the last inch will result in the ends being too wispy and you will lose that strong curtain bang look," she explains.
Ready To Try Rachel's Technique? Click Here To Purchase The SYMMETRY 30/2 From ARC™!
Slide For The Before & After! 
Have Questions? Rachel Has Answers!
One of the benefits of watching a course on BTC University? Artists are able to answer your questions in REAL TIME! Here are some technical questions viewers had for Rachel during her livestream:
Question:  When would you use a deep point cut to create a shag?
Answer: "You could definitely use point cutting to detail this look as you go. I personally prefer to create the foundation when the hair is wet and then go back and detail on dry hair. If my client had super thick, dense hair I would 100 percent point cut to alleviate some of that density before detailing." 
Q: What kind of tips do you give clients for styling their bangs at home?
A: "If the client prefers to air dry, it's really important that they comb their bangs how they want them to lay. So, I advise them to comb their bangs forward and manipulate them to a desired style for air drying. If the client has a heavy cowlick, then they NEED to use a blowdryer. Even if they like to air dry the rest of their hair, they have to blow dry their bangs to train that cowlick on how to lay correctly."
Slide For The Before & After! 
Ready To Learn It All? Click Here To Purchase Rachel's Full 90-Minute Course On BTC University & Receive Unlimited Access!