WHY YOU SHOULD HAVE MULTIPLE SCISSORS IN YOUR TOOL KIT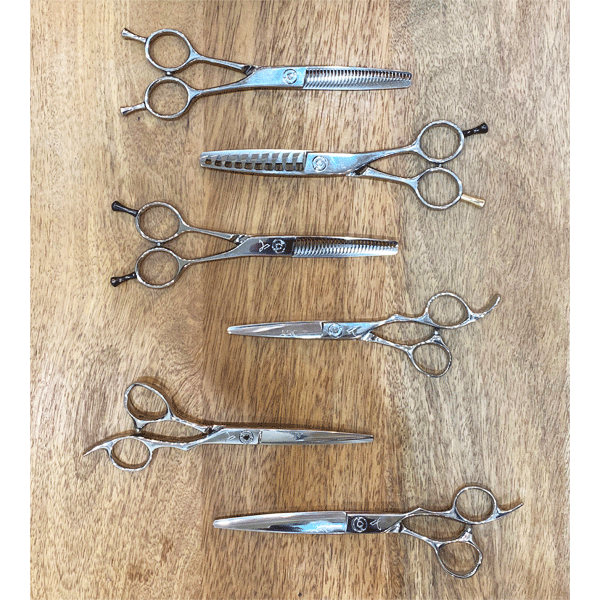 Why You Need Multiple Scissors In Your Cutting Arsenal
You probably have multiple products and styling tools to achieve the looks your client wants—but how many pairs of scissors do you have? Having a variety of scissors for different techniques lets you fine-tune cutting techniques and exercise your artistry on every client in your chair. So how should you build your scissor collection? We talked to four  ARC™ Scissors Team Members about why having multiple scissors is not just an investment in your skills but also in your business. Keep scrolling to learn it all!
Check Where The Scissors Are Made
Did you know the material of your scissors plays a BIG role in the outcome of your cuts? The quality of steel is important as cheaper material can degrade quickly with use, causing blades to break down or dull. Check your scissor manufacturer—are they made in Japan or China?
"ARC™ Scissors are made in Japan by a master Japanese craftsman," says Kerry Starnes, a member of the ARC™ Scissors Service Center. "Authentic Japanese steel has been developed and perfected literally over thousands of years, and that plays a huge role in the lifespan of the scissor." 
Wet Cutting: Avoiding The Push & Pull
Cutting hair that's wet results in clean, crisp lines—but some scissors can push or pull on the hair, causing unwanted overdirection and disrupting the precision of the haircut. When Gilad Goldstein (@myguiltycrown) is looking for ultimate precision on wet cuts, he uses the HARMONY II from ARC™ Scissors. This pair is designed with aggressive blade angles that won't push or pull the hair, making them great for wet cutting.
Scissors Used:
ARC™ HARMONY II
Dry Cutting: Made To Stay Sharper Longer 
Dull scissors can manipulate the cuticle and cause serious damage when dry cutting, so the blades must be able to hold their edge and stay sharp. The blades of ARC™ Scissors PARAGON II were designed for aggressive cutting angles and the steel undergoes a special tempering process, increasing the durability and performance life of the scissors. These details make the PARAGON II ideal for dry cutting and staying sharp.
For Chris Jones (@chrisjones_hair) the PARAGON II makes dry cutting easy and comfortable: "The design of these shears is much more streamlined and efficient than other dry cutters. They are perfectly balanced and stay sharp for months."
Scissors Used:
ARC™ PARAGON II
Choosing The Right Length
When it comes to choosing a scissor length, it's all about the details. For Carolynn Judd (@styed_by_carloynn), a smaller blade is perfect for her shorter, more detailed cuts—including fringe. "I use the 6" PHANTOM II because I am able to achieve extreme detail and work in those hard-to-reach areas," she explains. 
For longer locks, Gilad uses a lengthier blade to work in larger sections, create long layers and cut sharp, blunt lines. "A longer blade allows for a deep, parallel point cut, which removes weight efficiently in a haircut," Gilad says. 
Scissors Used:
ARC™ PHANTOM II
Adding Movement: Texturizer Or Scissor?
Texturizing a haircut can create movement, blend harsh lines and open up thicker hair by removing weight. But should you grab your texturizers or just use your scissors? "When determining if you need a texture shear you want to take the whole look into consideration," Carolynn says.
For pixies and shorter cuts, Rachel Williams (@rachelwstylist) grabs her 6" SYMMETRY 30/2 Reverisble Blender because she can remove weight without altering the overall haircut. "The SYMMETRY 30/2 only removes 15 to 20 percent of hair, so I am able to remove even the smallest amount of heaviness," she explains. 
Scissors Used:
ARC™ SYMMETRY 30/2 REVERSIBLE BLENDER
For Chris, choosing a texturizer isn't just about texture—it's about versatility. Chris creates his signature soft, blunt bobs using the SYMMETRY 10/10 from ARC™. Why? "It's the most versatile shear I've ever worked with," Chris explains. "It has a chunkier weight removal, so I think of it more as sketching with a pencil to create a haircut instead of a straight shear." 
Scissors Used:
ARC™ NEW! SYMMETRY 10/10 REVERSIBLE TEXTURIZER
When removing weight from thick or coarse hair, control is key. So Chris grabs the SYMMETRY 28/4 from ARC™ Scissors. "This texturizer has two less teeth than the SYMMETRY 30/2, so it really grabs the hair," Chris explains. "Allowing for much more control when cutting." 
Scissors Used:
ARC™ SYMMETRY 28/4 REVERSIBLE THINNER
Pro Tip: Texturize Curls With Scissors To Avoid Frizz
For curly clients, removing weight with a texturizer can disrupt the hair's natural curl pattern, resulting in frizz. Instead, texturize any curly or tightly coiled hair with scissors to have more control where the hair is being cut.