FOILAYAGED BLONDE + LONG-LAYERED CUT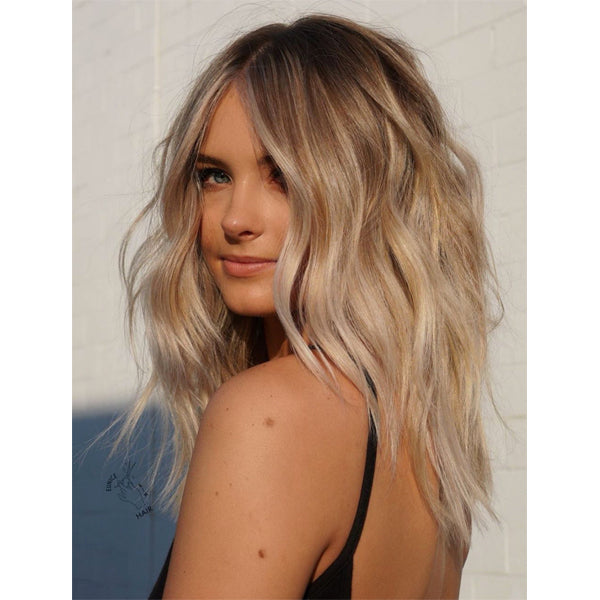 This foilayaged blonde + long-layered cut combo from Eunice Kim (@eunicekimhair) just SCREAMS summer, and since this dreamy golden hour pic got more than 7k likes when we shared it on our IG, we knew we had to get the deets. Keep scrolling to get the formulas and step-by-step breakdown for this stunning cut and color!
Color Formulas:
Starting Level: 6
Formula A (lightener):
Schwarzkopf Professional BLONDME Bond Enforcing Premium Lightener 9+ + 20-volume developer
Formula B (toner): 
Schwarzkopf Professional IGORA VIBRANCE® 9.5-1 + 9.5-19 + 9.5-4 + 6-volume developer
Formula Steps:
1. Working with diagonal back sectioning, hand paint the back two sections with Formula A. Be sure to leave drop sections out to create dimension. 
2. Moving onto the sides, continue taking diagonal back sections but also foilayage the pick up sections all the way up to the temple with Formula A. 
3. Next, move on to the hairline and paint about three slices with Formula A to establish the money piece.
4. In the Mohawk section, take slices with drop out sections, tease and foilayage with Formula A still until you reach the crown. Then, let everything process until the desired level of lift is achieved.
5. Rinse, then tone with Formula B and let process before rinsing again.
6. For the cut, point cut the length of her hair to remove weight using the 7″ PHANTOM II from ARC™ Scissors.  
7. Then, starting in the back, take almond-shaped sections, overdirect each one about 45 degrees and point cut into the layers.
8. For the face-framing pieces, start at the bottom and point cut your way up a little past the chin.
9. Finish by creating lived-in waves with a 1½-inch Hot Tools® Professional curling iron.
Total Chair Time: 2½ hours
Pricing: $415
Finished look in natural lighting // Instagram via @eunicekimhair