5 Dry Cutting Tips & Techniques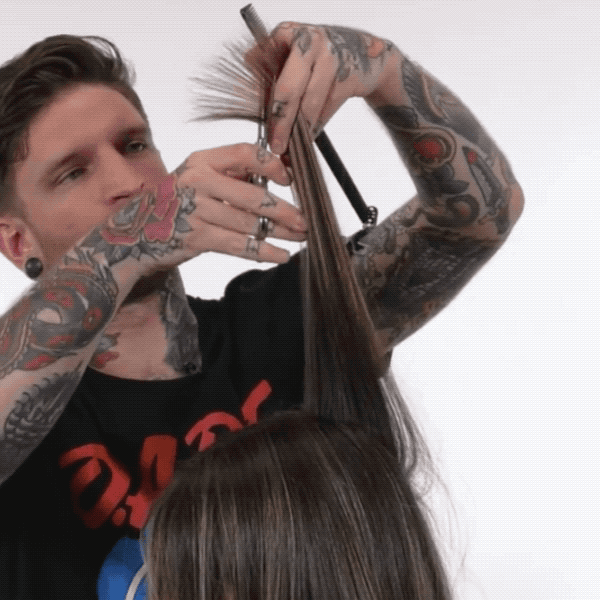 Are you interested in dry cutting, but don't know where to start? Dry cutting pro and ARC™ Ambassador Buddy Porter (@buddywporter) knows that it's all about learning the basics. Get some helpful dry cutting tips from the celebrity stylist who snips Ashley Tisdale and Camila Mendes' hair.
Tip 1: Sectioning For Control
Sectioning can be one of the hardest parts to figure out when dry cutting. Buddy remarks, "Honestly, when I started learning how to cut hair dry the main issue for me was sectioning. Learning how to section hair is a little bit hard, especially if you're not used to controlling it."
Here's how he does it:
Start by separating the hair from ear to ear at the crown, and then section hair down the middle in the back.

At the occipital bone, go in at a forward diagonal to further separate the hair at the top of the ear on each side and clip the hair out of the way.
Pro Tip: If Buddy has a client who can't achieve layers he wouldn't section the hair at all. He recommends starting in the front and working towards the back, with most of the cut focused on the back section.
Tip 2: Keep The Head Straight
Make sure your client's head is properly aligned and facing forward before the cutting starts. Buddy says, "With dry cutting it's really, really important to face your work." Even the slightest head tilt will throw the cut off and create uneven lines, especially when aiming for a blunt cut.
Tip 3: Invest In Dry Cutting Scissors
"You definitely want a DRY CUTTING SCISSOR. If you don't have a pair, invest in one. It will change your life," swears Buddy. "It will save you time. I'm using the ARC™ Scissors Master Series Paragon Sword. It's their top of the line." A good pair of dry-cutting shears can snip through wet and dry hair with ease.
ARC™ PARAGON II
Tip 4: Create Texture With Internal Layering
When adding movement to the hair with internal layering, invert the hair at 180 degrees and use the ARC™ Scissors Master Series Paragon Sword to deep point cut the ends at an angle for really diffused and seamless layers. Note: "I choose how short I'm going to be cutting this by how the underneath of the layered section drops out," says Buddy on internal layering.
"If I don't want every single hair to be affected and I don't want a hole in this haircut, I make sure that some of that hair drops out. That way I know my perimeter is intact."
Tip 5: Check The Layer Balance
To check for balance between layers follow the part line, pull hair out on both sides and line them up to see if they're even. Make sure you do this following the radius of the head. Depending on the haircut, every single piece of hair won't always be completely even on both sides and that's OK.
What do you do if the hair isn't in balance? "If the hair wasn't in balance you're going to take a little mini, horse shoe section on both sides of the part line," begins Buddy. "I'm bringing the hair straight up. I want it to look like a V." If the v-shape is uneven, go in and even it out by point cutting.
Follow these 5 dry cutting tips to establish your foundation and we know you'll have success behind the chair. 

Scissors Used
ARC™ Master Series Paragon Sword
CLICK HERE to learn how to cut a soft blunt bob.