Quickie How-To: Modern Shag Cut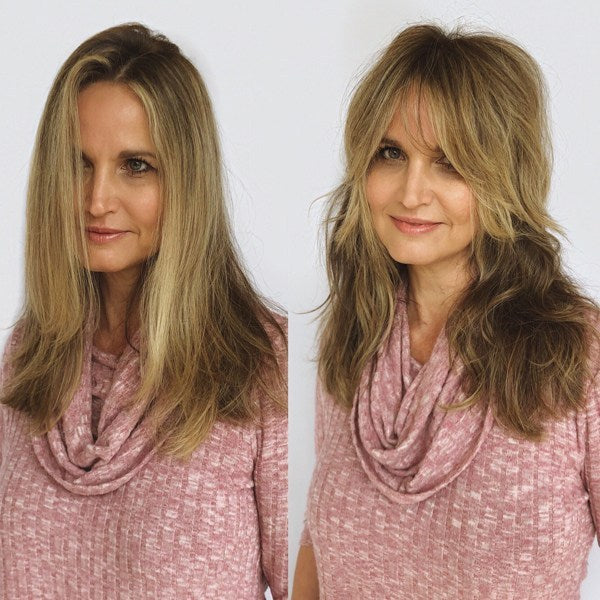 How @chrisjones_hair Cuts A Modern Shag
If you keep up with the trends, then you know the shag is back on top! But it's not quite the choppy cut of the '70s made famous by rockers like Mick Jagger and Joan Jett. The modern shag still has lots of layers, but it's softer with plenty of movement and texture and BTC Team Member Chris Jones (@chrisjones_hair) is breaking down his technique below. Watch how it's done, then keep scrolling for the steps!
Watch The Video How-To Below
How-To: 
1. Part her wet hair down the center, then take diagonal sections starting at the hairline. "I'll take a thin section to determine the length of my shortest layer," shares Chris.
Note: Chris' model likes to change up her part often by flipping her hair back and forth, which is why he worked with a center part.
2. Starting on her right side, stand in front of her on her left and overdirect the section from the right of the part all the way to her left side and cut using the ARC™ Scissors 6″ PHANTOM shear. "This angle promotes a concave shape, allowing the hair to go from short to long, creating a face-framing layer," says Chris.
ARC™ PHANTOM II
3. Use this first layer as a guide and continue working your way toward the crown, creating a short to long layer. Repeat on the other side of the part.
4. Once the cut is complete, blow-dry and straighten the hair. Then, repeat the same partings and sections and dry-cut/texturize with the ARC™ Scissors 6″ PHANTOM shear again to add softness and movement, elevating the crown to add additional layers. "I love the ARC™ Scissors line and recently tried the ARC™ Scissors 6″ PHANTOM shear," shares Chris. "It sits really well in my hand and is amazing for dry-cutting!"
Note: If you want more layers in the back, Chris says you can add square layers.
5. Finish by using a 1¼-inch curling iron, alternating the direction of each curl to add texture and movement.
Scissors Used
Want to learn more from Chris about his cutting techniques? Click here to purchase's Chris's class on BTC University and have lifetime access!