Bobs & Lobs: How To Cut The Perfect Perimeter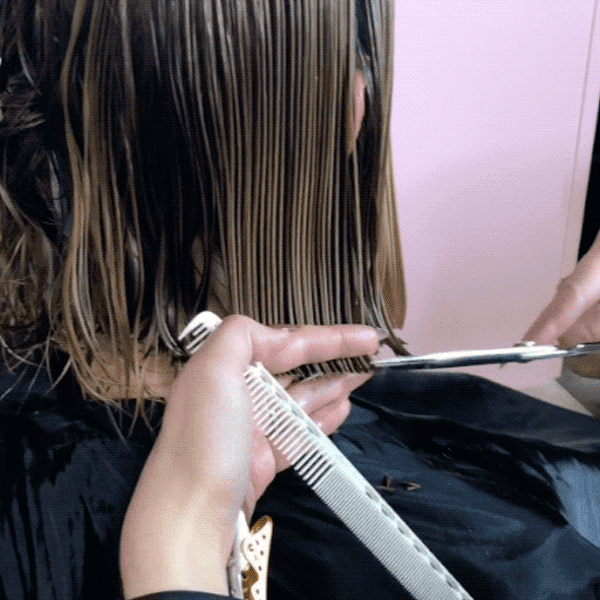 3 Tips For Cutting A Strong Perimeter On Bobs And Lobs
We'll let you in on a little secret: If you want to create bobs and lobs like the ones you see on Insta, then you need to cut a strong perimeter every time. Are you suddenly questioning what exactly that means? Don't worry, because we're breaking it down below with the help of Megan Schipani (@shmeggsandbaconn)! From whether you should be cutting wet or dry to choosing the right pair of scissors (by right pair we mean the PHANTOM 7″ shear from ARC™ Scissors), here are three tips for cutting a strong perimeter.
1. Wet Vs. Dry-Cutting
So which one is better? For Megan, it depends on the client and their hair type. First, she'll assess for growth patterns such as cowlicks, whorls, jumps in the hairline and areas where the density changes. Then, she'll do one of the following:
If she has fine hair, start with it dry and straight. This way, you can create the strongest perimeter with one long continuous cut all the way around the head.
If she has thick hair, start with it wet and work section by section so you don't miss anything. Then, go back in and texturize/remove weight once the hair is dried.
Note: Megan says she likes to shampoo and condition first no matter what because working with a clean canvas helps avoid any irregularities from product buildup or a previous style.
2. Elevation, Overdirection And Tension Matter
Does the first cut always make you sweat a little bit? Before making any cuts, the hair should lay at its natural fall meaning there should be zero elevation, zero overdirection and minimal tension. Why? It'll prevent any inconsistencies in the perimeter (even if she has those irregular growth patterns mentioned above).
 3. Invest In The Right Scissor
Without a doubt you need a pair of scissors that feel comfortable in your hands AND requires minimal effort to use. Megan's go-to is the PHANTOM 7″ shear from ARC™ Scissors because its long, extremely sharp convex blades make it easy to create a strong, consistent shape, which is crucial when first starting a bob or lob cut.
Click through the slideshow to see some of the most-liked bobs/lobs Megan posted to her Insta!
Scissors Used
Click here to learn how surface cutting works & why you should be doing it!