How To Texturize Bobs & Lobs Like A Pro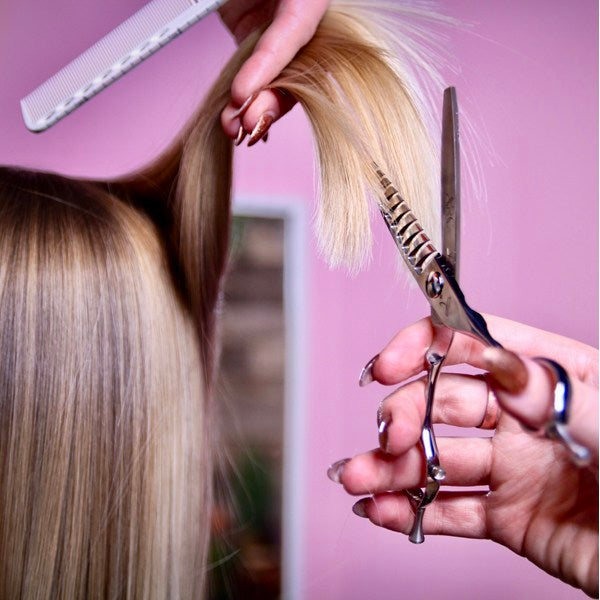 Here's How To Expertly Texturize Bobs And Lobs
When cutting a bob or lob, typically, you need to do one of two things: make it look like a fine-haired client has more hair than she actually does OR give a thick-haired client more movement while avoiding a triangle shape. So how do you do that? By texturizing! Watch the quickie below to learn @shmeggsandbaconn's technique, then keep scrolling for the how-to steps.
Watch The Video How-To Below
Get The Steps
1. Starting at where you see the most bulk, take a horizontal section and elevate it at a 90 degree angle.
2. Keeping your ARC™ Scissors SYMMETRY 10/10 Reversible Texturizer  parallel to the hair, cut into the section vertically and then comb it out after every few cuts.
ARC™ NEW! SYMMETRY 10/10 REVERSIBLE TEXTURIZER
3. Repeat Steps 1 and 2 wherever excess weight needs to be removed.
Note: If you need to remove even more weight for clients with a lot of hair, Megan says to use the ARC™ Scissors PHANTOM 7″ scissor instead.
ARC™ PHANTOM 7"
4. When you move to the front of the perimeter, again, elevate your section at a 90 degree angle.
5. Then, go under the section and chip away at the hair to create hidden layers. "This will give the front of your bob movement without taking away from the strong shape you created," shares Megan.
Scissors Used
ARC™ SYMMETRY 10/10 REVERSIBLE TEXTURIZER
Click HERE to learn three bulk-removing techniques for lob cuts!