Point Cutting: Why You Should Be Using This Cutting Technique For Perimeters of All Lengths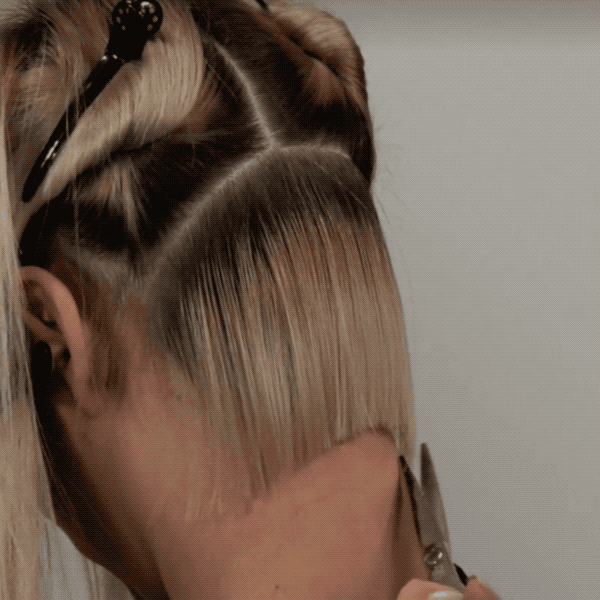 No Matter the Length—Point Cut The Perimeter For A Strong Baseline With Subtle Texture
A strong perimeter gives any haircut—no matter the length—the clean lines that stylists want to create and the full, healthy hair that clients want to see. But a blunt line doesn't mean the cut can't be soft and airy, so how do you approach the perimeter? We brought two master cutters to The BTC House to break down how they achieve clean lines and they both agree—point cutting is their go-to cutting technique. Scroll down to see how Matt Swinney (@matt.swinney) and Carolynn Judd (@styled_by_carolynn) point cut TWO different length haircuts and click here to purchase their entire class on BTC University. 
Matt's Haircut: Mid-Length With Subtle Texture—Slide For the Before & After
"When a client with long hair comes in and asks for a change, our first instinct is to chop it off," Matt explains. "But really what they're asking for is versatility with their styling." So how does Matt give satisfy these long-lock requests? Using a soft point-cutting technique to create a strong perimeter with subtle texture. "They will still be able to achieve a curl or wave that has movement but keep the length they want."
Scissors Used: PARAGON II
ARC™ PARAGON II
Here's Matt's point cutting step-by-step:
Bring down the first section in the back and cut the section straight across, creating a dominant guide.
Drop down the next section and use a soft point cut to bring the perimeter up to the previous section. Point cutting will give the haircut a strong baseline while also creating a bit of texture.
PRO TIP: Point cut each section slightly longer than the previous—this will avoid a base that is uneven.
TOOL TIME: Invest In Tools That Work Just Like You Do
Matt sees about 14 clients in the salon daily, so he needs scissors that can keep up with his hustle. "When choosing the tools we use every day behind the chair, it is important to consider how you work," Matt advises. "If you are someone that cuts hair wet to dry, chose a shear that cuts dry hair just as well as it cuts wet. That's why I use the PARAGON IIfrom ARC™ Scissors, because they are made to cut hair flawlessly no matter what technique."
Carolynn's Haircut: Reversible Bob With A Strong Baseline
Check Out The Before & After (feat. BTC Team Member Alisha Jared (@alishjaredhairartistry)
What's the most important step to Carolynn's Instafamous textured bob? "Take time on your first section," Carolynn explains. "It's the foundation for the rest of the haircut."
Scissors Used: PHANTOM II

ARC™ PHANTOM II
Here's how Carolynn achieves a flawless foundation:
Bring down the first section at the client's nape, using partings that mimic the angle you want to bob to create.
"I like my bobs to have clean, precise lines but have a bit of airiness to them," Carolynn explains. Using the 6" PHANTOM II from ARC™ Scissors, Carolynn uses a detailed, shallow point cut on her baseline.  
PRO TIP: To create a slight undercut, have the client tilt their head forward and cut the baseline. That way, when they lift their head the angle creates natural graduation without over-cutting.
Bring the shears into the section at a slight angle, using their neck for stability. "You want to approach the section from the bottom," Carolynn advises, "and close the shear as you come down to avoid cutting the client."
Treat yourself to a new pair of scissors? Click here to purchase the NEW PARAGON II from ARC™ Scissors!