SHAG 101: The Dos And Don'ts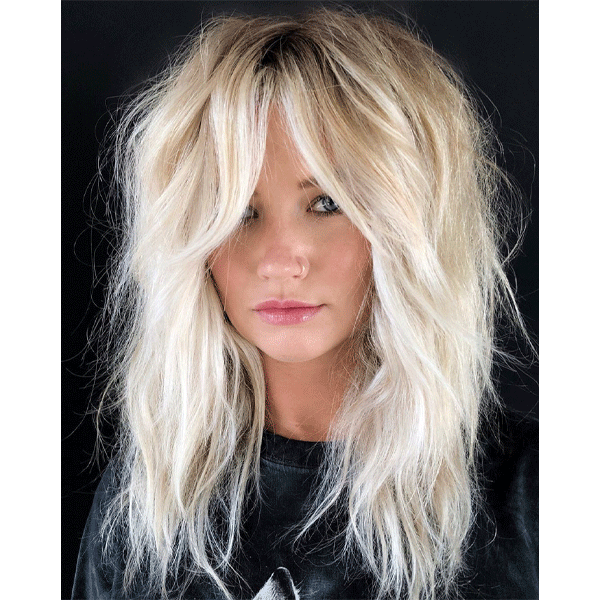 From the section elevation to the texturizing techniques, the shag is highly customizable with a lot of personality—if you know how to slay it. We reached out to ARC™ Scissors Architect and shag expert Rachel Williams (@rachelwstylist) to get all of her tips and tricks to ease you in and set you (and your shags) up for success.
What Is A Shag Haircut?
Originally created by the barber Paul McGregor, the shag traditionally consists of layers that are feathered at the top and sides, making the hair full around the crown, and thinner around the edges and throughout the ends.
"The shag is ideal for medium to thick hair types and straight, wavy or curly hair. It's a cut for all lifestyles, but if you're a tousle and go type—this cut is perfect for you," Rachel explains. "It's low maintenance and really shows off the natural texture of the hair. Perfect to style with a little volume mousse and let air dry or diffuse with a blow dryer." 
Key Elements To Cutting A Shag
1. Consultation
Since the shag has so many layers, it removes a lot of weight from the hair. This can catch a client off guard when watching you work in the mirror, so make sure you set expectations before you begin! "I feel that it is super important to always have a consultation first so the client fully understands the haircut and is not alarmed when they see so much hair being removed," explains Rachel.
2. Texture
For each client, its super important to take note of their natural texture and how they wear their hair most often before approaching the cut. 
If the hair is naturally straight, Rachel recommends starting the entire cut wet and then detailing when dry.
For hair that is wavy or curly, Rachel begins to cut dry (in its natural state) to really customize the cut to the client's texture so it is easy to maintain and style.
Rachel uses the 28/4 Reversible Thinner to texturize her shags:
Pro Tip: The 28/4 creates seamless movement without any bulk. With razor-sharp teeth perfectly spaced out to remove up to 40% of weight, this texturizer grabs onto hair with ease to detail out any cut with ease. The reversible construction allows you to angle the scissor in any direction to reach fine corners for one-of-a-kind cuts with blown out volume. 
3. Density
The shag haircut works on all density levels. However, a lot of people tend to mix up fine hair and thin hair. "I will never recommend a shag for thin hair because it is such a layered cut that it will take out too much weight and look like a mullet," says Rachel. 
4. Length
Rachel likes to establish her client's desired length first because it will be her guide to the rest of the cut. "Start with the hair below the occipital bone and hold the section straight out to 90 degrees. Cut your desired length and establish your perimeter. This will be your guide for the rest of your cut," explains Rachel.
What are some of the biggest mistakes you can make when cutting a shag? 
1.  Removing too much weight
"One of the biggest mistakes made when cutting a shag is taking too much weight out of the mid and bottom layers, which can create an outdated mullet," Rachel explains. "An easy way to prevent this from happening is to leave the section behind the ear out. The hair has less density in that area so it is best to detail that section when the hair is dry and in its natural state."
2. Not using your guide
After you have established your length, use that as your guide for the rest of the cut. Rachel uses her 6" ARC™ Scissors PHANTOM II to create the framework of the shag on wet hair. The PHANTOM II is able to transition from wet to dry cuts seamlessly, making it a go-to for a strong guide AND detailing. The razor-sharp blades create a guide that can't be missed. "Without a guide, you will create uneven weight and ultimately and unbalanced haircut with and a lot of weight lines," explains Rachel.   
 
3. Detailing on wet hair
"Always detail a shag when the hair is dry so you can see how the hair will lay naturally," recommends Rachel. "Don't remove weight on wet hair! It can be easy to take too much weight out."
Rachel uses the ARC™ Scissors™ SYMMETRY 30/2 Reversible Blender on dry hair to remove weight and texturize the bangs and face framing layers. The 30/2 creates soft texture that is easily customizable and a great beginner-friendly texturizer for minimal hair removal. 
SYMMETRY 30/2 Reversible Blender: