5 Fringe Cutting Tips For Soft, Natural Bangs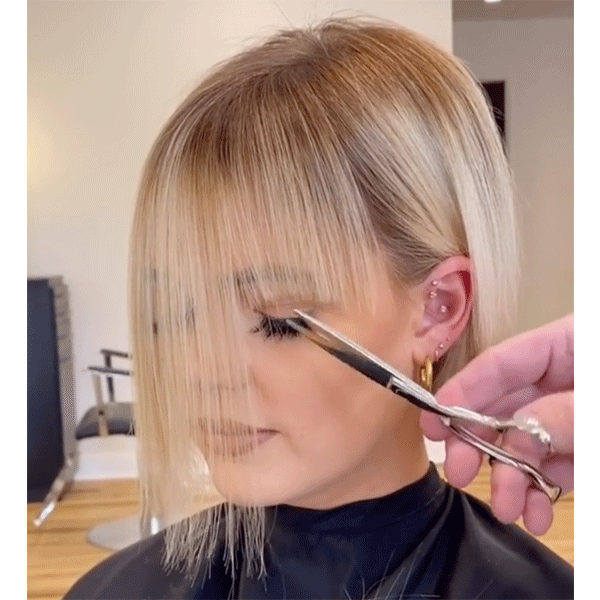 Use These Tips When Creating Soft, Natural Fringe
Your client comes in and they've made the decision—they're ready for bangs. Time to have a consultation and see just how fringy they are feeling! For clients who want to ease their way into a face frame, we collected some go-to cutting tips from some of Instagram's top cutters for a soft, fresh new fringe.
1. Create The Foundation: Twist & Cut
Cutting into a face frame can be a little intimidating. ARC™ Team Member Rachel Williams (@rachelwstylist) shares her tips for getting started: 
Bring the entire face frame section forward at 45 degrees, away from the client's face.
Twist this section once and comb through so the hair is smooth and ready to cut.
Cut away desired length in "V" shape, making sure to round the edges.
Release the section and comb smooth.
Detail the fringe by point cutting or with texturizers to finish!
Watch Rachel's Face Framing Demo:
What makes bangs look soft with natural movement? Rachel's go-to scissor— PHANTOM II from ARC™ Scissors!
ARC™ PHANTOM II
Unique blade design won't pull on hair, making smooth cuts for a soft finish.

 Excels in wet, dry and precision cutting—perfect for any bang cutting preference.
Razor-sharp blades create subtle texture, leaving bangs light and airy to frame the face. 
2. Cutting Soft, Wispy Fringe 
To create a soft bang with style versatility, stylist Gilad Goldstein (@myguiltycrown) uses slight elevation while point cutting. "I use the wide tooth side of my cutting comb and my ARC™ Scissors PHANTOM II  to create a soft, lighter fringe," explains Gilad. "This will give the bang a slight layer making sure it doesn't fall too heavy on the client's forehead."  
Check Out Gilad's Technique In The Video Below:
3. Give Fine-Haired Clients Fuller-Looking Fringe
For clients with finer locks, ARC™ Team Member Chris Jones (@chrisjones_hair) says cutting fringe at zero or minimal elevation will create a fuller look. It's important to create subtle detail on fine hair to add movement. This requires a sharp scissor that doesn't take a lot of finessing—Chris recommends using the the PARAGON II from ARC™ Scissors for fine-hair detailing, because they are sharp from pivot to tip, perfect for detailing! 
Razor-sharp blades from pivot to tip, making detail work a breeze.
Optimized for precision line work which is essential to avoid cutting too much from fine hair.  
Excels in dry cutting, perfect for finishing touches on cuts that require strategic placement.  
Watch Chris's Fringe Cutting Demo:
4. Try Slide Cutting For Longer Locks
BTC Team Member Mickey Colon (@mickeycolonjr) cuts his longer fringe with a combination technique. Mickey recommends slide cutting through the hair while barely opening and closing his shear. BUT wait—there's a twist.
"I put a soft twist in my fringe section before cutting," Mickey explains. "This way, when I slide through the section with my ARC™ Scissors PHANTOM II, the ends are soft and gradually lay from short to long. The PHANTOM II is perfect for this technique because they don't snag or pull on the hair!"
Check Out Mickey's Twist & Slide Technique!
 5. For Curtain Bangs: Think "V" Not "C"
"Curtain Bangs are a huge fringe trend right now," Cali-based stylist Ashlee Norman (@ashleenormanhair) explains.
Instead of cutting a round "C" shape, Ashlee prefers to cut two V-shaped sections on either side of the client's part. "This creates a center point of weight that can be winged back but still drip down around the cheek bone," Ashlee explains. "It will create a slimming effect for the finished result." And who doesn't love that?
ARC™ PHANTOM II