The Shag: Sally Hershberger's 4 Tips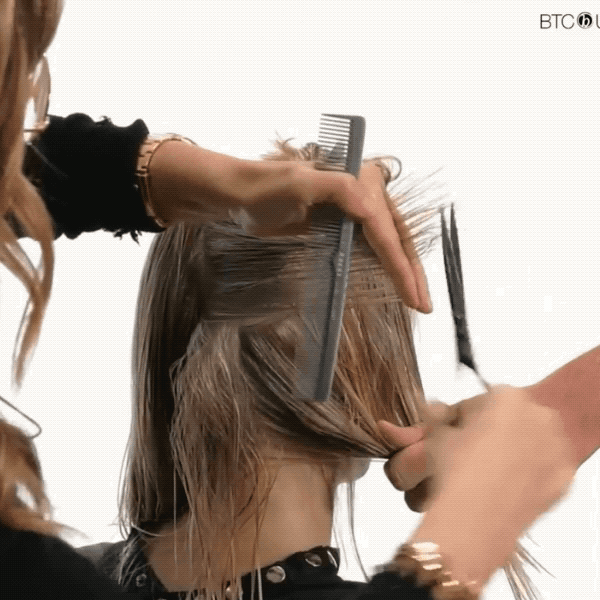 The shag is the sexiest haircut on the market, you can quote us on that. Hair legend Sally Hershberger (@sallyhershberger) dropped by the BTC House in West Hollywood to give us a crash course on creating this iconic look that has graced the heads of starlets like Jane Fonda and Meg Ryan.
Scroll down to grab the tips and check out Sally's BTC University class for the full step-by-step tutorial for $24.95!
Tip 1: It's All In The Sectioning
Start your shag off by sectioning the hair in small, thin sections making sure to leave the perimeter out around the head. "Even if the hair is super thick, I like to do very small sections. I feel that it keeps me very organized in my hair cutting," says Sally.
Tip 2: Start At The Perimeter
Get started at the fringe and side fringe to set the tone of your cut. Make sure to pick a length that highlights the cheekbones. "You don't want to take too much out around the face in the beginning. If you carve too much out and if you have thin hair, you're going to have little strings." For this cut, Sally used the PHANTOM 6″ scissor from ARC™ Scissor. "I love to use the PHANTOM 6″ when slice cutting around the face because they give a nice soft cut, great for adding subtle texture." 
Tip 3: Remove The Corners
A shag naturally forms square layers or corners, but how you blend out the corners is what makes the cut. Keep the shag more conservative and save length by elevating the hair when removing the weight from the corners, while texturizing the corners out gives it an edgier vibe. "I think what really makes my shags work for people is that they're so blended, because I take out that corner," remarks Sally. "That corner can make it look very conservative or cool depending on how it flows."
Tip 4: Tension Is Key
Angles and elevation help make this cut, but it can't go anywhere without constant precise tension. "Consistent tension for me matters the most. I get anxiety if someone doesn't give tension, because that means they're not making the hair even. It's too loose."
Scissors Used
Ready to try Sally's shag cutting tips? Click here to purchase Sally's class on BTC University and have lifetime access!