5 Bob & Lob Haircut Texturizing Technique Videos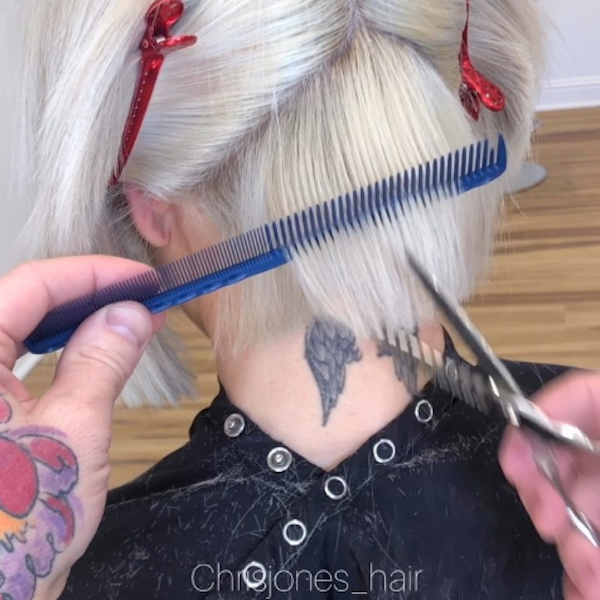 Learn How To Texturize Bob & Lob Haircuts With These Pro Tips & Videos 
You want to recreate the super blunt bobs and lobs you're seeing on Instagram, but find yourself struggling to maintain softness and texture—now what? You may need to rethink your texturizing techniques. That's why we've rounded up five viral tutorials from some pretty amazing cutters. Keep scrollin' for wet and dry-cutting videos and pro tips that will help you slay the shape, then create the cool-girl texture clients want. 
Tip 1: How to create separation through the ends without compromising shape. 
For this drastic long-to-lob transformation by @wesdoeshair, Wes established a strong perimeter on wet hair first, then went back in on dry hair to remove weight with layering techniques. For a highly-textured finish WITHOUT compromising the shape, he created separation throughout the ends by using ARC™ Scissors SYMMETRY 10/10 Reversible Texturizer on the perimeter. 
ARC™ NEW! SYMMETRY 10/10 REVERSIBLE TEXTURIZER
Tip 2: Trying to fix jagged lines & end up cutting the hair too short? Try this.
Is this happening behind the chair: You struggle to create straight and clean lines, then end up cutting too much off trying to fix them? This is one of the most common mistakes when cutting bobs and lobs 
 The problem could be the dullness of the shears.
Since a bob is a structured haircut, @styled_by_carolynn suggests using shears that are extremely sharp and will STAY sharp throughout the service. Carolynn's fave tool is the ARC™ Scissors PHANTOM 6″ because they're sharp and lightweight.
Tip 3: Why you should try cutting the perimeter wet & finishing dry. 
Why do Instagram's most double-tapped cutters LOVE dry cutting? Because dry hair reveals density and texture, so it helps with texturizing and personalizing techniques—but that doesn't meaning giving up cutting wet completely. That's why @rachelwstylist cuts her bobs with the ARC™ Scissors PHANTOM 6″ like this: Cut the perimeter wet, connect the layers on wet hair, THEN blow-dry and detail on dry hair. 
Tip 4: You shouldn't have to switch 
 when switching from wet to dry-cutting. 
Let's get real. Your shears shouldn't be a one-trick pony, because you do it ALL behind the chair. That's why @chrisjones_hair uses his ARC™ Scissors Paragon II to cut wet AND dry. "These shears allow me to do a pixie on one client, then a full dry-cut bob on the next," dishes Chris. "The weight of this shear is so balanced that I can literally use the same shear all day."
Tip 5: Are you using this shear-shattering technique? Here's why you should be. 
If you know, you know. If not, here's the tea: This dry texturizing technique from @styled_by_carolynn is similar to notching but removes less hair and gives the style a more natural and lived-in vibe. Tap HERE for the complete step-by-step breakdown and and visual guide!
Ready to try these cutting tips? Click here to purchase the PHANTOM 6" from ARC™ Scissors 
 Click here to learn more cutting tips from @styled_by_carolynn and have lifetime access!